Attorney Sheryl Dennis Quoted in Barron's
"Someone who doesn't own a home and who has limited assets might also prefer to start with a will for cost and simplicity, and then they could consider a trust down the road once they've accumulated property or other assets", says Sheryl Dennis, founding partner at Fields and Dennis LLP in Wellesley, Mass. "Anyone who owns a piece of property I think should have a trust," she says.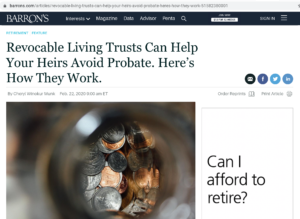 Probate can be a long, arduous, and costly process—especially in states that aren't considered probate-friendly. Enter a workaround that is being used by an increasing number of people: revocable living trusts.
Like a will, a revocable living trust allows you to determine how your property is distributed when you die. Trust owners can also make stipulations about how to direct specific assets after they die.
Click to read the full article Revocable Living Trusts Can Help Your Heirs Avoid Probate. Here's How They Work.